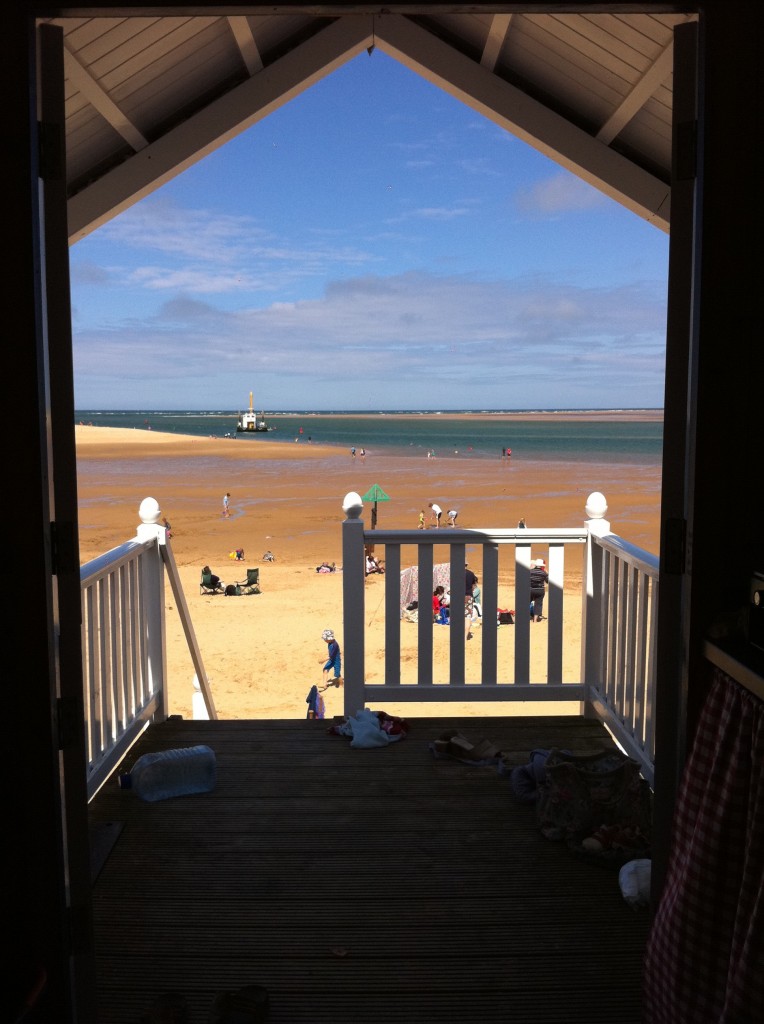 Sorry sorry sorry! I know I've been missing in action for some weeks now. There's been much to do both at home and at the coalface and, as usual, the clock is starting to tick on what now lies in front of me. Autumn is always a pressure time because the world gets back from it's hols and get focussed on the run up to Christmas. Sounds weird I know, but in meedja-land, we're virtually breaking out the sherry and mince pie job sheets from the moment September gets her voluminous skirts into position.
In last weekend's Observer mag, dear old Nigel Slater was already opining the onset of Autum, albeit at 6am in his Islington garden via his nose. Seems that when we finally do get a reasonable summer, we then can't wait to get shot of it so we can get the bonfire going and have some warming soup. Fine by me. It's one of the reasons I could never live somewhere like L.A. I need the seasons. They mark time like nothing else.
And then the random hoves into view…Completely out of the blue 2 weeks ago I got an email from Mike Keneally (him guitarist out of Zappa's "Broadway The Hard Way" era and subsequent sower and then harvester of some epically individual and spine tingling music) to ask whether I'd be interested in playing keys for Joe Satriani for two shows that he couldn't make in the UK.
Turns out he's off to play keys at the Steve Vai festival in Holland in October.
With Steve Vai.
So this is a guitarist. Who played with Zappa. Now playing keys for Joe Satriani and Steve Vai. Keys!!
Like playing the guitar isn't bloody hard enough with a band leader like FZ, Mike has the headspace to also play full on keyboards with two of the most influential guitarists of the last two decades. Co-incidentally Nick d'Virgilio was in the Mike Keneally band for a while in the 90's so I was able to get a vibe from Nick on the great man. Suffice to say he told me to not only bite his hand off, but also his arm and most of his shoulder physiognomy too.
Turns out it was Dave Gregory, ex of XTC and co-collaborator from Big big Train's excellent album "The Underfall Yard" that very kindly put my name forward. I owe him quite a few beers I reckon. Dave, if you're reading, name a time and place mate. Hell, I'll even throw in some quality scran.
So to get the call has been a compliment of the highest order really and something I didn't even for a minute even think that I could seriously think about turning down. I LOVE a challenge as you know and I will throw every centimetre of my being into not just landing this plane, but making sure it's washed, valeted and every single passenger goes home with a goody bag filled with bespoke curly wurlys and Hugo Boss trinkets before delivering said plane to the hangar full of fuel, food, love and smelling of something lovely like Zooey Deschanel or a freshly opened box of Earl Grey Tea. Something you know is just as it should be, but at the same time is fleeting and should be treasured. I'll be playing Glasgow on 22nd October and Brum on the 23rd with the boys. Why not pop down and yell "What-Ho!" at me during the quiet bits?
Bring it on!
In other news, I finished and delivered my Losers mix of "Sirenna (Today We See Colour)". I'm shit knob banana horse chuffed with it and hope to get more involved in that scene again after a fairly long hiatus. Electronica, IDM or whatever you want to call it has been a very longstanding passion of mine. Indeed, it was the reason I lost touch with prog for 15 years in the 90's and early 00's. Musically it has the same sense of progression and adventure that prog had had in its heyday, but it actively and enthusiastically embraces modernity at the same time. I'd argue that it still has more pioneers like Jon Hopkins, Tim Exile, BT, Daedelus and Noisia for example, to lead the way than prog has at the moment and I am very much a card carrying enthusiast of my other musical passion.
Tonight is also the last night of my holiday. My two weeks off has felt like about 7 hours. I can't believe I'm back to work on Monday. That said, I've had a minty mint time and despite being more knackered than I was before I took some time off (those of you with four kids under 5 years of age also on holiday with you will know what I mean) I do feel mentally refreshed and looking forward to the work ahead.
Not least of which is 1976 which I'll get underway now. Then there's the programming and pre-pro for the Summer's End show – more on that in a later posting. Simultaneously, I'll also have to get to work on Satch's stuff whilst keeping an eye on prep the Frost Christmas shows. We have some very new and cool stuff lined up for those three December shows so I would and do urge you to nail your tickets soon if you've a mind to come see us. I know that most of the world's drummers are coming down to catch Craig's debut with us as a full time member plus those very nice chaps from Roland UK will be coming along too. In addition to this, l'il Johnny Mitchell has told me that My Passion are big Frost fans now and will be coming down to see us as well. I'm rather blown away by that to be honest. I'm hoping that we can support them for a few of their shows next year too all things being equal. I'll get back to you on that one…
But with that in mind, regardless of the current turnout, I'd love these shows to be rammed so tell everyone you know who might be up for it to come down as well. Hopefully we can make them nights that get talked about in hushed tones for years to come.
Then we're into 2011 and the new album and hopeful subsequent tour. So you see, it's pretty much a full on run to the finish line this year and then headlong straight into the next bit of the story. Frost 3 – at last!
So. Deep breath, and…
Off we go…